I moved into a new home with my husband in October, and we bought curtains for the 5 upstairs windows at Ikea. All of them were too long. Like puddling on the floor long. But… we needed window coverings asap, they were reasonable, and I decided I could hem them up despite the fact that I don't own a sewing machine and I haven't sewn anything since 7th grade home economics class (yes- they called it that way back when when I took the class). How hard could it be????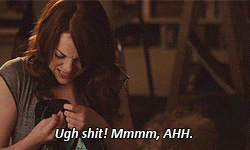 My friend graciously loaned me her sewing machine. When I asked her something later about how to use it, she told me she had no idea-  the machine had sat in the closet unused for 3 years and the last time she used it her mom was there to help. When I brought it up at book club, none my friends sew and suggested I use fusion tape. By then, it was already too late. It was hem or die trying. I did figure it out, finally, and got the curtains done. Unfortunately it didn't occur to me to take a "before picture" but I do have an "after".
My curtains aren't perfect, but they are much better than what they were, and I am proud of myself for not falling into the perfectionist trap that has plagued me in the past. I allowed myself to be content with "good enough". It's very freeing!
With my newfound confidence, I decided I could sew other stuff, too. I spent hours on Pinterest looking at easy sewing projects for babies like receiving blankets, bibs, and burp rags. It took me two days to do a "10 minute blanket" . Turns out I really like looking at project ideas and shopping for fabrics, but the measuring, cutting, pinning, and sewing parts of the project, not so much. I don't mind the ironing, surprisingly. I have more flannel, and will sew a few more items before I pack up the machine and return it to my friend. I don't think I'll end up buying my own machine and continuing to sew, but I'm really glad I gave it a try.
Do you sew? What other hobbies do you enjoy? Let me know in the comments below- I'd love to hear from you!